Updates and News
11/5/13:
The studio is beginning to get cleaned up and a little bit closer to functional; homemade instruments coming along well. I am hoping to be up and running soon.

First time playing with someone since 2006 happened yesterday, with multi-instrumentalist & filmmaker Jeffrey Von Ragen. I recall it being quite good. It was recorded on an H2, I'll hopefully be getting a listen to it soon.
9/18/13:
It saddens me to report the death of a great musician and one of my favorite people, Kenny Ryman, from esophogeal cancer, on 7/13. My friend and fellow bag man was a fearless performer, an experimental and progressive musician of depth and quality, and a blast to work with. I think it's safe to say he will be missed by everyone who knew him. Hard to believe he's gone.

A corrolary note: anyone waiting for "Bagapalooza" can stop. It's as dead as my friend.

That said, there is a new lineup of Bag: Theory rehearsing, soon to release a CD, and soon to be gigging. Watch the PB site for info. I will not be in it, but M. Segal will, as well as previous BT members Anthony Cossa and Marc Mylar. Tom Stillwagon will be handling bass. Haven't heard anything yet but I have no doubt it will be excellent.

A quick mention I shoulda made four months ago: "Adventures Of Forever And Nowhere" streams for free. You should be able to listen to the whole album for free at that link.

As may have become obvious to anyone following my "New Music Mondays" project, it tanked after five pieces. It was simply impossible for me to make the time to keep up with something even that simple. The five pieces that made it (and corresponding links): "The Wedding Of Yosemite Sam"; "Donut Shop"; "The Ritual Summoning Of The Barnyard God"; "Ol' Shibboleth McCoy"; and "My Own Back Yard". Every one of them leans in a sort of avante-dada direction, a bit like "The Hero As Pantry" but with a bit more instrumental meat.

Lots of bad news there, but a few new things are good. I am nearly done with my homemade set of tubular bells, and the first test of them has them sounding good. I am currently at 20 bells, but will probably get one more low pitched. Even then, the cost for the materials, including the lumber to make the table for them, is under $100. If they sounded like crap, none of this would mean much; but they sound authentic. I also have a large (and growing) collection of both found and made wooden and metal percussion. Still not sure how it will be set up. I am also in the process of restoring and converting an ultra-cheap bass drum I picked up at a garage sale. Sounds decent even if it's not worth much, and once it's done I'll have three floor toms: 16", 20" and 22".

Eventually I will have more to tell you and then, er...I will. Until then, be well, and keep your ears and mind open: great music is out there, waiting to be discovered and enjoyed. It just may be lurking in places you were unaware of.
5/27/13:
Now available for download at Bandcamp: "Adventures Of Forever And Nowhere". It can be downloaded in any format, including lossless .wav ; $1 a song or $7 for the whole album.

This week on New Music Monday: "Donut Shop". It features many of the homemade percussion instruments I've done over the last few years.
5/24/13:
Announcing: New Music Monday!
Every Monday there will be a piece of new, live, and most likely improvised music posted for free download through mediafire. I will post the links here.

We start off with "The Wedding Of Yosemite Sam", a piece improvised on an instrument currently under construction!- a set of homemade tubular bells. I had originally thought of tubular bells as having one sound, but I discovered, happily, that I was wrong. Change mallets/strikers, change attack, mute, stroke- and you find that,like most other instruments, there are a huge number of sounds possible.

This is an excerpt from a performance which was originally around four and a half minutes. I'll be trying to keep things short and easy to get a quick listen to.
4/14/13:
Hmm...been a while. So ho, what news?
Now available for free download: Cold Sky's "King Of Illusion Variations".
Work continues on the studio. The goal is now to finish it no later than mid-summer.
Many ideas coming...not too much time to act on them yet, but that will change. In the meanwhile those of you who like solid objects can feel free to order from the products page, and anyone who likes downloads has a few choices as well now. And there will be more.
10/2/12:
With my blessing, David McIntire has made our CD, "Wonder, Doubt and Curiosity" , available for download here.
8/18/12:
Sometimes I forget to post news about my activities in other bands here, if I plan on posting it elsewhere. But yes, I was in Paper Bag; and yes, there's interesting news on that front. First off, here's a link to some live video from 6/26/86. Then, there are some free audio downloads on reverbnation and soundcloud; the same tracks on each, but maybe you have a preference? Last, there's a survey set up here to find out some info about people who listen to us, and it offers room for feedback on what you'd like to hear next from us, in what format, etc.
8/15/12:
Important news:
The Phantom Airship PO Box is no longer active. Until other arrangements are made, for all transactions, please email me first (see front page for link).
Somewhat less important news:
I decided to follow Paper Bag's lead, and now have my own Facebook page here.....Any day now I'll manage to sit down and listen to all 4 and a half hours of reels from "The Perspective Sessions", from which Paper Bag's next batch of archival releases will come; after which, I will give my opinions to the other guys as to what pieces make the grade, and why. I reckon this ought to be some mighty good stuff.....Work on the studio has slowed to a crawl, but with any luck that will change....Almost diametrically opposed to that, PA-related ideas keep coming at what appears to be a rising rate. Feels like a sort of creative springtime might be on its way. I always hate saying things like that for fear of the dreaded "spoken jinx" phenomenon; but having said that, perhaps it will work in double-negative fashion; or be seen as a pile of superstitious bull.....I am back in touch with CD Baby and hope to start making use of the opportunities they afford us indie and "waaay-below-the-underground-underground" artistes. I am gradually being dragged to the conclusion that downloads are the way to go, much as I prefer physical CDs.
4/23/12:
There's a new blog entry here; Paper Bag now has a very nice Facebook page here; otherwise, not much. Work has continued on the studio and is coming along well. Writing on "A Handful Of Ashes" continues sporadically. Continuing ed continues to ed in various subjects.
1/19/12: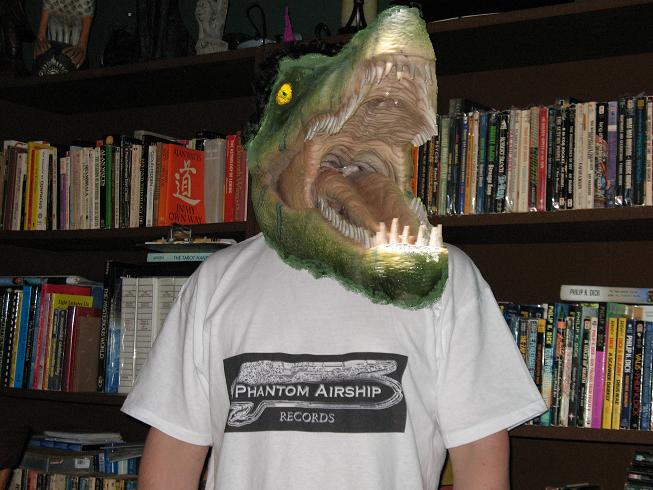 VERY LIMITED EDITION: PHANTOM AIRSHIP T-SHIRTS
White shirts, size XL; black and white pro silkscreened Phantom Airship logo. $9 plus shipping ($3 in U.S., $5 outside)
email order to: phantomairship@yahoo.com
OR
Send check or money order to

PO Box 82525 Portland, OR 97282-0525 USA
PayPal is my preferred method of payment for international orders.
Checks or money orders must be made out to Greg Segal, NOT Phantom Airship
1/9/12:
HAPPY NEW YEAR!
And what better way to start off than with an entire album for free download? Yes that's right kids, it's "A Man Who Was Here", remastered, sounding better than ever and ready for listening. As with Paper Bag's "Music To Trash" download, this one contains jpegs for printing up a CD cover and tray card. So what are you waiting for? Act now!

READ ARCHIVED NEWS FROM 2011

READ ARCHIVED NEWS FROM 2010
READ ARCHIVED NEWS FROM 2009
READ ARCHIVED NEWS FROM 2008
READ ARCHIVED NEWS FROM 2007
READ ARCHIVED NEWS FROM 2006
READ ARCHIVED NEWS FROM 2005
READ ARCHIVED NEWS FROM 2004
READ ARCHIVED NEWS FROM 2003
READ ARCHIVED NEWS FROM 2002
READ ARCHIVED NEWS FROM 2001
READ ARCHIVED NEWS FROM 2000
GIG INFO:
No shows are currently scheduled.